Brittani Rollen's practice mainly focuses on appellate procedure and the litigation that goes along with the appeals process. She leverages her extensive trial experience and researching and writing abilities to comprehend and make connections as cases transition from a lower court to a higher court. Brittani enjoys the oral advocacy part of the job, priding herself on a logical, understandable approach to arguments. This helps her to effectively influence others to her side. Bolstering her appellate practice, Brittani also covers matters related to labor and employment, HOAs, and education.
Brittani is originally a southeast-Texas product, but she's mainly from Cleburne. Now living in Burleson, Brittani is likely one of the friendliest and easy-to-get-along-with lawyers you'll ever meet. Some of her hobbies include walking to Sundance Square for lunch with coworkers, drinking sweet tea (made the right way with real sugar!), and reading, especially historical fiction. Brittani also holds a deep-seated passion for parenting special needs children. In fact, she and her husband developed a speech aid to help their nonverbal son and co-wrote a book to help other families learn how to use the speech aid. You can check out their labor of love at www.thetinytalker.com.
Education
Juris Doctor – Baylor University School of Law, 2005

President of the Harvey T. Richey Moot Court Society

Order of the Barristers

Student Ambassador

Leon Jaworksi Scholarship Recipient

Dean's Academic Achievement Scholarship Recipient

Bachelor of Business Administration, Marketing – Texas A&M University, 2001

Magna cum Laude

Mays Business Fellows Program

Class of 2001 Council

Kappa Alpha Theta, Recording Secretary
Bar & Court Admissions & Certifications
State Bar of Texas, 2005

United States Supreme Court

United States Court of Appeals for the 5th District

United States District Court for the Northern, Southern, Eastern, and Western Districts of Texas
Awards & Recognition
Top Women Attorneys in Texas by Thomson Reuters: 2020

Texas Super Lawyers by Thomson Reuters: 2019

Texas Super Lawyers, Rising Stars by Thomson Reuters: 2013, 2014, 2015, 2016, 2017, 2018

Top Attorneys >5 Years of Practice by Fort Worth, Texas Magazine: 2010, 2011, 2012, 2013 (Appellate) (Civil Litigation), 2014 (Appellate), 2016 (Appellate), 2017 (Appellate), 2018 (Appellate), 2019

Top Attorneys <5 Years of Practice by Fort Worth, Texas Magazine: 2009

Top Attorneys by 360 West Magazine: 2017 (Appellate Law), 2019 (Appellate Law)

Texas Bar Foundation, Fellow, 2010

YWCA Tribute to Women in Business Honoree, 2009
Professional Affiliations & Organizations
State Bar of Texas, Appellate Section, Member

State Bar of Texas, Women's Section, Member

Texas Association of Defense Counsel, Board of Directors

Tarrant County Bar Association, Member

Executive Committee for Appellate Section, Former Chair, 2013-2014

Women's Section, Member
Volunteerism & Community
Fort Worth Leading Edge, 2011 Graduate

Joubert Syndrome and Related Disorders Foundation, Board of Directors

Prairie Timber Estates Homeowners' Association, Board of Directors
Publications
"Q&A with Justice David F. Farris," by Brittani W. Rollen, Tarrant County Bar Journal, November 2017

"Brief Writing: Make Yourself Useful as Well as Ornamental," by Stephen K. Hayes and Brittani Wilmore Rollen, Texas Bar College, Summer 2017 Bulletin

"Brief Writing: Make Yourself Useful as Well as Ornamental," by Stephen K. Hayes and Brittani Wilmore Rollen, Real Estate, Probate, and Trust Law Reporter, Vol. 55, No. 2, Feb. 2017

"Brief Writing: Make Yourself Useful as Well as Ornamental," by Stephen K. Hayes and Brittani Wilmore Rollen, The Advocate, State Bar Litigation Section Report, Vol. 76, Fall 2016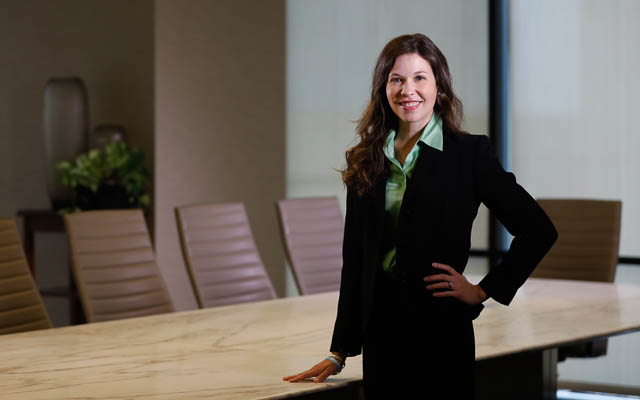 817.347.3610
Representative Experience & Services
Brittani has a wide variety of legal experience in many areas of practice, including in trial settings, employment law, and commercial transactions. Just two of many accomplishments include:
Negotiated electricity agreements in 2007, 2008, 2010, and 2013 on behalf of one of the largest school districts in Texas

Drafted legal opinion letters in complex transactions for clients, including a major private university, a national owner/lessor of skills nursing facilities, and a Texas electric cooperative
Brittani has also provided contract and policy review and litigation avoidance advice for clients.
Just a few of Brittani's many notable cases include:
In re Rogers Wealth Group, Inc. and dale Rogers, No. 02-18-00010-CV, 2018 WL 1230460, (Tex. App. – Fort Worth) (orig. proceeding). Trial court denied employer's motion to strike petition in intervention of former employee in pending litigation.  Successfully obtained mandamus for employer on appeal, ordering trial court to strike the intervention.

Nelson v. Watch House International, 815 F.3d 190 (5th Cir. 2016). Employee sued former employer for discrimination, and district court ordered parties to arbitrate pursuant to an arbitration provision in the employee handbook. Represented employee on appeal to the Fifth Circuit, in which the Fifth Circuit held that arbitration provision was illusory and unenforceable.

Stainbrook v. Texas Christian University, No. 02-13-00433-CV, 2014 WL 5798273 (Tex. App.—Fort Worth 2014, no. pet.). Tailgate party attendee who was injured in a fight sued TCU for premises liability. Trial court granted summary judgment for TCU, and attendee appealed. Successfully defended TCU on appeal to the Second Court of Appeals.

Bastrop Central Appraisal District v. Acme Brick Company, 428 S.W.3d 911 (Tex. App.—Austin 2014, no pet.). Represented national brick manufacturer in a case against the appraisal district. Drafted motion for summary judgment establishing that manufacturer was entitled to the pollution control exemption on its plant for tax years 2004-2007. Motion was granted, and appraisal district appealed. Drafted appellate briefing, and case was affirmed on appeal.

Jerline Smith v. Carter BloodCare, No. 02-12-00523-CV, 2014 WL 1257273 (Tex. App.—Fort Worth 2014, no. pet.). Won summary judgment for employer blood bank in suit by former employee for state law claims of sexual harassment, which was affirmed on appeal.

DaimlerChrysler Motor Co. LLC v. Manuel, 362 S.W.3d 160 (Tex. App.—Fort Worth 2012, no pet.). Successfully represented DFW area car dealer against one of the big 3 automotive manufacturers for the manufacturer's breach of contract at trial and on appeal.